Hydrodermabrasion: all you need to know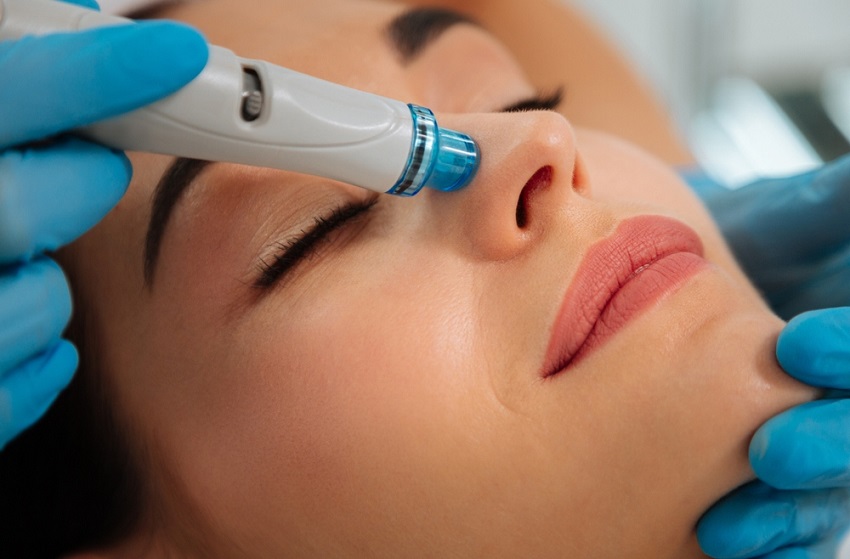 You've probably heard of microdermabrasion, which uses a diamond crystal head for a thorough exfoliation. Similarly, there's hydroderm, shorthand for Hydrodermabrasion, an exfoliating procedure that uses suction-driven equipment, serums and saline. Because of its gentler nature, hydrodermabrasion is ideal for even the most delicate skin types.
Using the healing capabilities of water, a hydrodermabrasion facial removes impurities from the skin's surface. It's mild, cleans pores, and helps you look and feel younger.
BENEFITS OF THE PROCESS:
A crystal-free exfoliation is possible thanks to the mild abrasion instrument.
Dead skin cells are removed, and the skin is well-hydrated thanks to supersonic water spray.
Toxic chemicals, excess sebum and germs are flushed out of the pores by the water jet.
Vitamins and Minerals might be added with water-based ingredients depending on your skin type and what it needs.
As a result, your skin's blood supply will improve. 
PROCESS AND RISKS INVOLVED:
This process, like a scrub, can be performed as a prelude to face treatment, allowing the nutrients to be better absorbed.
There is no risk of over-exfoliation with this therapy because the peeling is relatively mild on your skin. It's an enjoyable experience, with no aches or pains.
Improved skin texture, reduced fine lines and wrinkles, and deeper hydration benefit hydrodermabrasion. A regular face regimen will help reduce the appearance of enlarged and congested pores in the long run. 
IS IT A GOOD OPTION:
It's an excellent option for those with delicate or highly delicate skin. It is excellent for people with a darker complexion, ageing skin, acne-prone skin, or skin that is congested or otherwise blemished. Hydro-dermabrasion can also assist those with oily skin since it reduces the greasy appearance of the skin and reduces the size of pores.
Both men and women may use it, but the face must be freshly shaven.
The look of moderate acne scars and fine wrinkles might be improved if you have this procedure. It won't take long for your skin to see the benefits of the surgery.
The ideal treatment for a mild but complete facial right before an important event, such as a wedding, is the way to go. 
HYDRODERMABRASION AND HYPERPIGMENTATION:
Over time, hydro-dermabrasion can help you get rid of dark spots, such as age spots and hyper-pigmentation. The esthetician can utilise different types of devices, but the idea remains the same. You use a wand that utilises both vacuum (vacuum) and serum (saline) to do the procedure. It doesn't matter what skin issue a customer is trying to address with these serums.
ADVANTAGES:
This service has a wide range of advantages. In general, though, the skin will seem younger if you regularly and adequately exfoliate it. To reveal a younger layer of skin beneath, you must carefully remove dead cells from the surface. The cosmetics you put on your face will accomplish their job, rather than resting on top of dead skin cells. It helps eliminate blackheads, unclog blocked pores, level skin tone and texture, increase moisture, and add a healthy shine to the skin.
RESPONSE FROM CUSTOMERS:
After receiving this treatment, customers frequently comment on how 'cold' their skin feels. The combination of serums and vacuum is highly beneficial to the skin. Powerwashing is a term used for this. This means that the serums are sucked out of one tube and then sucked back in with another. The dead skin cells and other skin debris can be vacuumed into the waste tank with the serums and saline using suction. In addition, it's a beautiful experience for customers to watch what landed there as well.
Almost everyone who uses this service reaps the rewards. If you suffer from severe acne, rosacea, or thin skin, you should avoid this facial. However, the suction may be lowered, and the serums can always be adjusted, so this service isn't just a cookie-cutter one like some others. Take the time to talk to your esthetician about your skin-care objectives and see what she recommends.