Carpet Tiles: Everything You Need to Know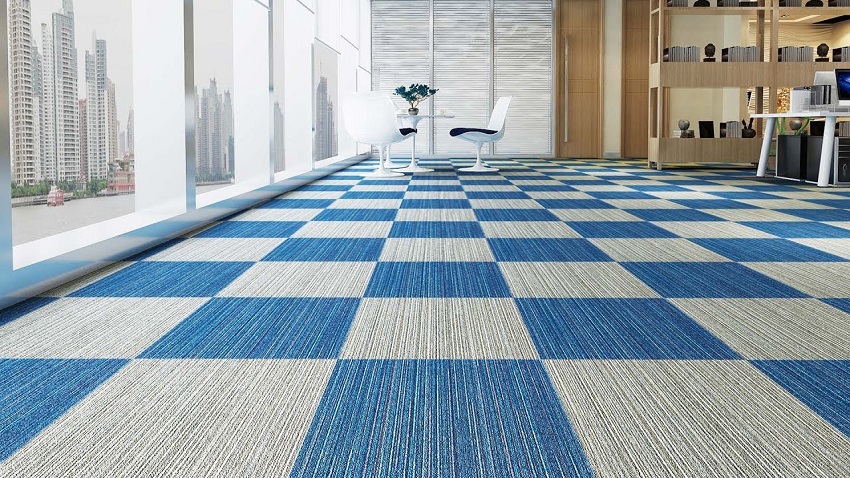 Are you interested in learning more about the new carpet tile craze? You're not the only one curious about the benefits of this new option. And to assist you, let's go over the advantages of carpet tiles or demonstrate how you can put them to use in your own house or apartment. This will make you motivated to go through a carpet tile collection at a store and opt for it for your home.
Why Do You Need Them?
Specially-designed squares of flooring designed to lock down similarly and basic carpet flooring make-up carpet tiles. In some cases, glues are used to secure the tiles to the subfloors, while staples or nails are used in others. This carpet flooring is often used in checkerboard or mosaic patterns to create more exciting designs and colours.
Advantages
Installation Is a Breeze
You can quickly and easily mount your carpet tiles using double-sided rug tape or carpet adhesive. Some come with pre-applied sealants and peel and adhere backings, so 1/2 of the work is already done for you. As such, you don't require a contractor to install carpet tiles in your home!
Low-Maintenance
Replacement or cleaning of carpet tiles is as simple as any other type of carpet. Is there a stain on one of these tiles that you can't seem to get out? It's all good! That tile needs to be replaced for the floor to look brand new! In contrast, replacing a single section of a qualitative carpet roll would necessitate tearing up the entire floor. And carpet tiles can help you avoid that nightmare.
Exceptional Longevity
As they were initially developed for commercial spaces such as offices, carpet tiles were engineered to withstand high traffic or lots of use. As such, low-pile fibres in heavy-duty carpet tiles resist gutting and matting, allowing them to last for many years while still looking great.
Eco-Friendly
Bottles and fishing nets are familiar sources of recycled materials used to produce most modular carpet tiles. And with these, there is less waste than with carpet rolls, and as such, you save money by not purchasing unnecessary materials and help save the environment.
Expanded Choices for Installing
Installing these tiles in your house can be used to cover the entire floor of the room, a rug, an entrance mat, or even a hallway runner. You have complete control over the specifics.
Effortlessness in Removal
Carpet tile squares, in contrast to broadloom, are portable. So, are you sick of your carpet? And are you planning a new colour palette? Suppose you're a renter needing flooring that will hide the dreaded linoleum in your residence but isn't going to be there for the long haul. Hence, this is the option for you, as it's gone as soon as you lift it! Removing it is as simple as pulling a pin out of your finger.
There Are a Plethora of Creative Options
With reconfigurable carpet tiles, users can create a unique and fun floor design by combining different tiles. Stripes, checkers, random colour blocks, or whatever inspires you can be used in your design! You can mix and match other patterned carpet tiles to create an authentic, one-of-a-kind look. As such, you can choose what caters to your needs from the carpet tile collection at a store.
Anywhere You Want It
Heavy traffic, spills, stains, and the weather are no match for the toughness of carpet tiles. Yes, you read that correctly; you can put carpet tiles on your deck, patio, and garage. As such, choosing the correct tile will withstand even the harshest conditions without fading and mould or mildew issues. 
Carpet tiles are easy to install and last a long time; they instantly change the space's look and make it look new and renovated. Meanwhile, there are different colours, styles, and patterns to choose from, so you will indeed find one that caters to and fits your needs.