Quick home decoration ideas that you will love
They are great experts in redecorating. And they are willing to reveal their secrets to you so that you can change the home decoration. Easily and effectively without work or large investments.
Dining Room Like New!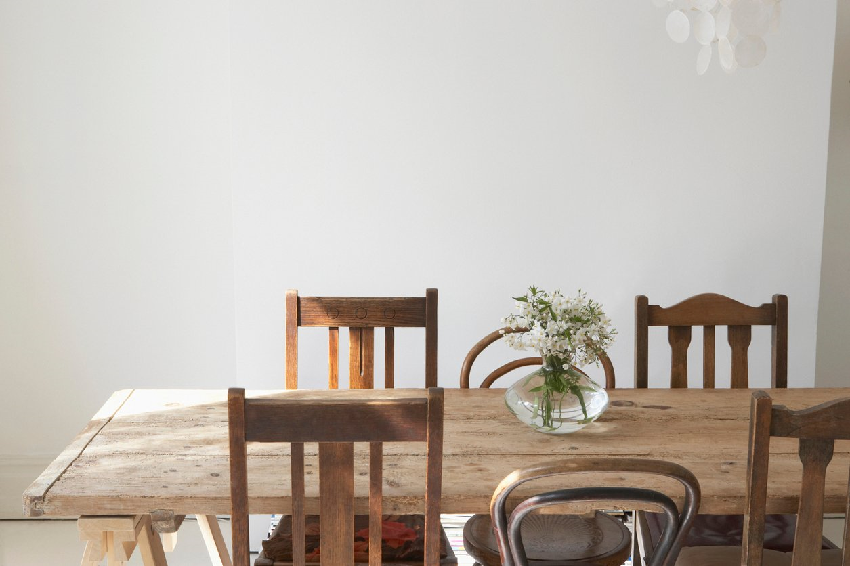 Renewing without spending is possible. Thinking of a new life for your dining room? Leticia Tordesillas and Leticia Cariño from Estudio Trece. Have the tip you were looking for to achieve an effective change for a little: "fabric a dining room wall seems like a great idea to give it the style we want. We always recommend putting a rug under the dining table dining room to give warmth. And separate the area from other rooms, since normally the living room and dining room share space".
A Brick Headboard And… Wow, New Bedroom
When we think of renovating the bathroom or updating the bedroom, perhaps we do not consider having a decorator because you want a quick change. But they advise us in this article. Cristina Amoroso and Andrea Gámez from the Annanké Interiorismo studio advise about the bedroom "decorating the upper space of the headboards with a wood-framed panel with a simple design based on diagonals, to generate volume to the wall".
A Jewel Painting That Renews
Put color or just the opposite, add texture, contrast, risk… investing in art is always a good idea. Mónica Baquedano, from Línea Lateral, gives us some tips that won't make you spend anything: "in a frame if the geometry is well proportioned, just turning it renews the atmosphere and it still feels pretty".
Give Your Woodwork A Makeover With This Decorator Tip
"If we want to go for economic solutions to renovate without spending, we have to reuse", indicates Antón Pérez from the Ábaton studio. We did it in one of our projects, finished off with a lacquered MDF on top." By leaving a visible slider (not built-in), it decorates and integrates into the whole.
Renovate Without Spending The Kitchen
Any ideas to renovate the kitchen? Leticia Tordesillas and Leticia Cariño from Estudio Trece help us: "Put wallpaper on a wall or in the office area. Sometimes it gives off a lot of light and the feeling is of entering a different space." Also reupholster the office bench with an Aquaclean fabric, which allows stains to be cleaned with a little water and repels bacteria".
Deco Objects And Auxiliary Pieces
Small objects, auxiliary furniture… Little thing? Not at all! His power is brutal. "Renovating a corner of the home with furniture and small elements is possible and makes a difference. For example, in a reading area add, next to the armchair, a stool that can serve as a side table. Use a tray and on it, a vase with flowers, aromatic candles, and decorative books to give that final and enchanting touch to the space", Ananke Interiorismo.
Lighting And Lamps
Home decoration can be achieved with the objects, but also with the sensations they provoke. This is the case of lighting: light can change the perception of space in amplitude, luminosity, and warmth. Indirect lights also provide warmth," says María Díaz Leguina. In addition, "velvet ribbons or some geometric motif can be added to a lampshade and it can be personalized".
A Look At Cabinet Doors
"If you want to update or give a different touch to the cabinet doors, paint them with chalk paint or change the handles-If you are handy you can wallpaper them with patterned paper or make it look like fabric. If the doors have a frame, you can remove the central part and place a patterned or plain fabric, natural raffia or even colored, transparent or mirror glass," says María Díaz Laguna.
Add Moldings To Your House And Renew It
Moldings are a trend and using them to decorate a wall is a good idea to renovate. You can combine them with paper or let them shine in white or another color. Sandra Antón, from the ESs study, Interior Architecture, proposes "framing the entire headboard of the bed with a smooth frieze (molding attached to the wall), painting with matte enamel so that the cushions do not leave marks on the wall -and if they leave, it can be cleaned perfectly-". And if you want to combine moldings and paper, they recommend using vinyl paper, which is more resistant and "can be taken to the ground, without skirting."
There Is A Neon For You!
Decorating with neons is far from imagining just a symbol or letters in fluorescent and strident colors. There are warm light and personalized messages. Neon lights that you buy or that you order tailored to your space (you can even choose the font you prefer). It's an eye-catching way to decorate a wall that will make the space feel (and look) refreshed.
You may also be interested in Tips to home renovation and sell it better