Black lipstick: 8 tips to wear it with elegance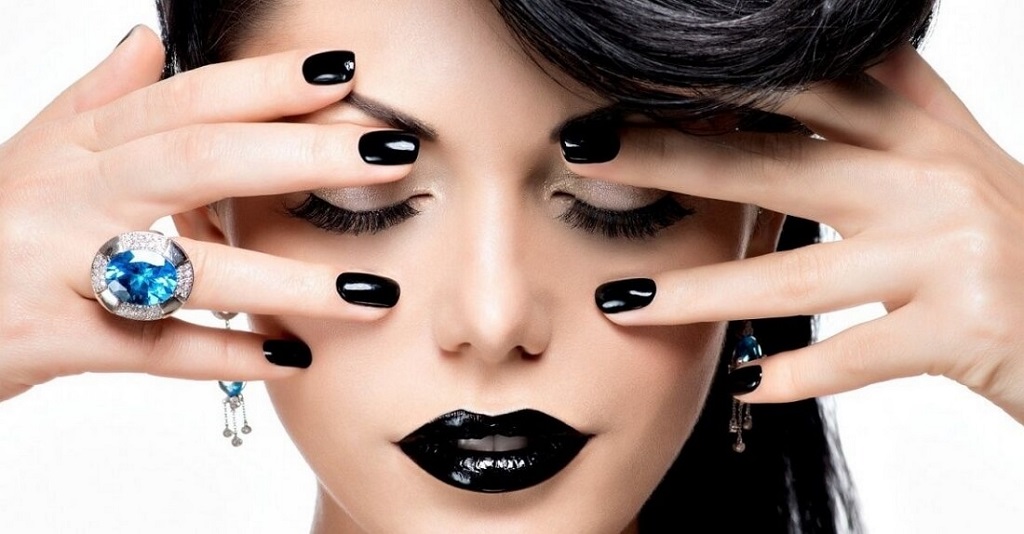 Black lips for a classy effect, with a hint of transgression: black lipstick is this and much more. Let's see the history of this makeup and the best products.
A particular and bold look, very popular even among the stars and on the catwalks, is what black lipstick provides. Suitable for all skin types, combined with the right outfit. It no longer represents an adherence to the punk and gothic style as in the past but is modern, elegant, and refined.
The history of black lipstick
The black lipstick represents a style that never goes out of fashion, thanks to its versatility and the different meanings it has assumed over the years. The first black lipsticks were seen in 1976 in England and were part of the look of a style that would have had great success from then on: punk. Along with black or colored crests and dark nails, lipstick with different shades of black was a symbol of transgression and protest.
In the 40 years since then, black lipstick has reinvented itself, becoming an icon for gothic or " witch " looks, arriving instead in recent years to represent no longer just transgression. Today it is also used as a symbol of elegance and seduction, as it is able to attract attention in a refined way if combined with the right clothes and makeup. On the other hand, it has retained the ability to represent something bold and particular, which, even if no longer just a punk product, always reminds us of air of transgression.
Black lipstick: how to wear it with elegance? 8 tips
Black lipstick is a beautiful and original make-up product, which can be adapted to all skin types and styles. In fact, black is considered by make-up artists as a " non-color ", in the same way as white, and therefore goes well with dark and light skin types. Although over the years it has often been assimilated to punk and transgressive looks, today it is synonymous with refinement, if applied in the correct way. Let's see 8 tips to wear it with elegance.
1. It must last a long time
To avoid an exaggerated or neglected effect, it is important to choose a long-lasting lipstick. A product of this type is applied evenly on the lips, it is difficult to remove and eliminates any stains of color on the lips giving a more refined look.
2. Pay attention to your skin type
Black lipstick looks good on any skin type, but you need to know how to wear it so that it looks elegant and doesn't mortify the complexion. The skin types darker suit definitely more to the black lipstick, because there is less contrast, while the fair skin should pay more attention to the combination, especially in the facial makeup.
3.Watch out for smudges
Avoiding smudging is an important rule to guarantee the result of any lipstick. With the black one you have to be even more careful because it is more difficult to fix. If necessary, you can also use a matte black pencil for the lip contour, in order to facilitate the application without smudging.
4. The base matters
For an elegant effect, care must also be taken to apply the right primer to the face. The base must be slightly lighter in the area of ​​the lips, and give the right color: black lipstick on too light skin can in fact give the "emo" or "vampire" effect.
5. The right make-up
Essential with black lipstick is to choose the right combinations for an elegant and refined look starting from the make-up. For example, it is advisable to make up a little eye and avoid more transgressive looks such as smokey eyes, preferring instead a natural make-up, with light and bright eyeshadows. With darker skins, you can be a little more daring, while still trying to stay on colored makeup.
6. How to match it
The chosen dress is also essential to obtain a chic and not an overlooked style. We prefer dresses with simple textures, in retro or vintage style, and soft shapes, so as not to harden the look. Even with accessories, it is good not to overdo it, accompanying the black lipstick. And the outfit for example with a clutch bag and a jewel.
7. Texture
The texture of the lipstick is as important as the color because it is what transforms the different styles. For a more elegant look, matte lipstick is preferable. While maintaining the sophistication with glossy black lipstick and lacquered lips. It can be combined with a white dress and gathered hair, with light makeup.
8. The cherry alternative
A trendy alternative in very elegant 2019 is the cherry lips that blend cherry red. Or colors on purple with noir shades to get more light and incredible shades. The effect is very elegant and refined.